Summer Camp Guide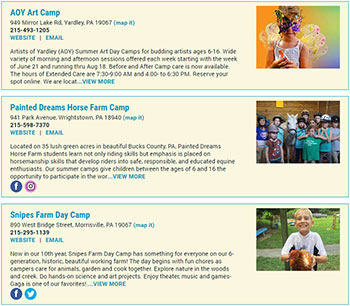 Advertise your camp programs in the Summer Camp Guide in our family of 48 websites. Our Summer Camp Guide is one of the most popular destinations for parents searching for the best summer camp for their kids. With a low price of $180 per year, your Summer Camp advertisement will include:

Special highlighted listing at top of page;
Contact information;
A short camp description;
One photo;
Link to your website and email; and
Links to social media.
To ensure that visitors to our websites view our Summer Camp Guide, it will be featured in our email newsletter that is sent to our email ist of 48,000+ and highlighted on our home page for the camp season! There is no better way to use your advertising dollars.